Recalls in Wisconsin...Repubs hold onto the senate with 4 wins--shocked unions only win two of six.
Wisconsin Democrats last night may not have won the whole quesadilla they had hoped for, but liberal cheeseheads succeeded in taking back two state Senate seats from Republicans in last night's unprecedented recall elections, falling short in this round of their goal in taking back control of the legislative body by recalling sitting Republican senators.
If, as some pundits declared, last night's recall elections for Wisconsin state Senate offer a preview of what the 2012 presidential elections will look like, we can look forward to millions of dollars of uncertain provenance spent on sneering TV ads to arrive at a result to be determined by a few thousand votes counted by an unreliable official, under inevitable accusations of vote tampering.
Another recall election for two Democratic state senators is scheduled for next Tuesday.
MORE from ALTERNET...
-0-
The 11th Circuit Court of Appeals has ruled that the health reform law's individual mandate is unconstitutional but that the rest of the law can stand.
-0-
Riots in 4 Brit Cities
London is reeling from three nights of rioting that's poured hundreds of people into the streets, leaving several local neighborhoods in shambles. One man is dead, dozens injured and arrested.

Two police cars and a large number of buildings were on Saturday set ablaze in north London following a protest over the fatal shooting of a 29-year-old man in an armed stand-off with officers. The patrol cars were torched as dozens gathered outside the police station on the High Road in Tottenham.

The protests have now spread to other cities, with violence reported in parts of Birmingham, Liverpool and Bristol.
-0-
The Taliban lured US forces into an elaborate trap to shoot down their helicopter
, killing 30 American troops in the deadliest such incident of the war, an Afghan official said Monday.
US President Barack Obama pledged that the incident -- which killed 38 people -- would not keep foreign forces from prevailing in Afghanistan, and the Pentagon called the downing of the Chinook a "one-off" that would not alter US strategy.
-0-
DOVER AIR FORCE BASE, Del. – Assuming the grimmest role of his office, President Barack Obama on Tuesday privately honored fallen forces returning home from war, this time the troops killed in a helicopter attack that claimed more American lives than any other strike of the Afghanistan war.
Obama's afternoon trip here was unannounced to ensure the security of his helicopter flight. Members of the media covering the trip agreed not to report on it until he had landed.
After about a half-hour flight from Washington, Marine One touched down at the base. The president climbed into a limousine that took him to the two C-17 aircraft that arrived earlier in the day carrying the remains of the 30 Americans killed in Afghanistan.
The president boarded each plane to pay his respects to the fallen. The White House said Obama then spent more than an hour meeting with 250 family members and service members gathered at the base, offering his condolences for their loss and his gratitude for their service and sacrifice.
-0-
KC Boy says Remember my Dad.
CNN broadcast a photo Tuesday submitted by 10 year old Braydon Nichols, saying remember my dad who died among the Navy Seals shot down in Afghanistan.
(CNN)
-- A week ago, 10-year-old Braydon Nichols started to think about his dad and how much he missed him. Army Chief Warrant Officer Bryan Nichols, a helicopter pilot, had been deployed for two months in Afghanistan.
Link to the entire story
-0-
-0-
Senate Majority Leader Harry Reid plans to tap Sen. Patty Murray (D-Wash.) to serve as the co-chair of the deficit reduction super committee. His other two picks will be Sens. Max Baucus (D-Mont.) and John Kerry (D-Mass.), according to Democratic sources.
-0-
Leavenworth County Fair Parade
-0-
National Cyber Alert System
Cyber Security Alert SA11-221A
Microsoft Updates for Multiple Vulnerabilities
Original release date: August 09, 2011
* Microsoft Windows
* Microsoft Office
* Internet Explorer
* .NET Framework
* Microsoft Developer Tools
Overview
There are multiple vulnerabilities in Microsoft Windows, Microsoft Office, Internet Explorer, .NET Framework, and Microsoft Developer Tools. Microsoft has released updates to address these vulnerabilities.
Solution: Install updates
The updates to address these vulnerabilities are available on the Microsoft Update site (requires Internet Explorer). We recommend enabling Automatic Updates.
Description
The Microsoft Security Bulletin Summary for August 2011 describes multiple vulnerabilities in Microsoft Windows, Microsoft Office, Internet Explorer, .NET Framework, and Microsoft Developer Tools.
Microsoft has released updates to address these vulnerabilities, which may allow an attacker to gain control of your computer or cause it to crash.
-0-
GOP Kansas Governor Gives back Federal Money
- Kansas became on Tuesday the second U.S. state to return a large federal grant meant to help it create a prototype health insurance exchange as part of the Obama administration's healthcare overhaul.
Republican Governor Sam Brownback said the state would give back the $31.5 million it received from the U.S. Department of Health and Human Services to become an early leader, along with six other states, in establishing health insurance exchanges that other local government could use as a model.
Exchanges are meant to provide an open marketplace of competing insurance plans that allow uninsured people and small businesses to band together to negotiate cheaper rates.
Kansas's move brings the total amount of the returned exchange-related federal grants to almost $90 million as Republican governors seek to block implementation of the healthcare law supported largely by Democratic lawmakers.
Experts warn that many states are falling far behind schedule for a smooth and timely roll-out of the reform.
More from Reuters....
-0-
Stocks take another hit Monday after Friday's S&P Downgrade.
Predictable. But still painful for those whose retirements and investments are in the fickle stock market. Wall Street had its worst day since the 2008 financial crisis as fearful investors reacted to the United States losing its coveted AAA credit rating.
FULL STORY
-0-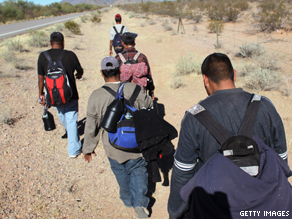 In case you needed it, here's yet another sign of just how bad the economy is:
Illegal aliens are leaving the United States and returning to Mexico in search of a better life.
You heard that right. One Mexican official tells the Sacramento Bee that Mexico has "become a middle class country" where it's now easier to buy homes on credit, get higher education and find a job."
Not so here in the U.S. where the employment picture remains grim. Just today came announcements from Cisco and Goldman Sachs that they're cutting thousands of jobs.
Jack Cafferty CNN
-0-
Fox, Limbaugh Campaign Against Majority Rule In Secret-Ballot Union Elections
August 05, 2011 10:42 pm ET Media Matters —
9 Comments
Rush Limbaugh and Fox News contributor Dana Perino have claimed that the FAA shutdown was caused by a dispute over the Democrats' "backdoor way to help the unions with the card check bill." In reality, the dispute involves corporate and Republican opposition to a decision by the National Mediation Board to change the way it conducts unionization elections to a method that allows workers to unionize if a union wins a majority of the ballots cast.